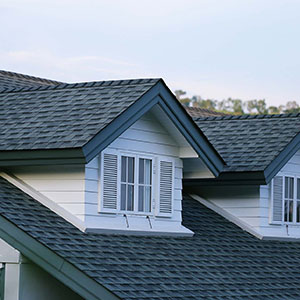 Roofing Professionals in Cheyenne, WY
Welcome to Drury Brothers Roofing, your go-to roofing experts in Cheyenne, Wyoming! With years of experience and a commitment to excellence, we take pride in delivering top-notch roofing solutions for both commercial and residential properties. Our team of skilled professionals is dedicated to providing high-quality reroofing services, ensuring your property remains well-protected and aesthetically appealing. Whether it's metal roofing, rubber roofing, shingles, siding, gutters, or any other roofing need, we have you covered. Trust us for all your reroofing needs, and let us enhance the durability and beauty of your property.
Commercial Roofing
We understand the unique needs of commercial properties in Cheyenne. Our commercial reroofing services are tailored to meet the demands of businesses, industries, and organizations, ensuring their structures remain secure and weather-resistant.

Metal Roofing

Metal roofing is a popular choice for commercial reroofing projects due to its exceptional durability and longevity. Our team is well-versed in installing and repairing metal roofs for various commercial establishments. Whether you own a retail store, warehouse, or office building, our metal roofing solutions will offer you unparalleled protection against harsh weather conditions, including heavy snow, rain, and wind. With a variety of metal roofing options available, we can help you choose the one that complements your building's architecture while providing superior performance.

Rubber Roofing

Rubber roofing is an excellent choice for commercial reroofing, especially for low-sloped or flat roofs. It offers outstanding waterproofing properties, ensuring that your building remains leak-free and well-insulated. Our roofing experts are trained in rubber roof installation and repair, and we only use high-quality materials to ensure the longevity of your rubber roof. Trust us to safeguard your commercial property with reliable and efficient rubber roofing solutions.

Shingles
Asphalt shingles are a popular choice for residential reroofing projects due to their versatility and affordability. Our team is well-equipped to install and replace shingle roofs with precision and attention to detail. Choose from a wide range of shingle styles and colors to enhance your home's curb appeal while ensuring reliable protection against the elements. Rest assured; our shingle roofing solutions will elevate the beauty and value of your residential property.
Siding
In addition to roofing, we also offer siding replacement services during residential reroofing projects. Siding plays a crucial role in protecting your home's exterior and enhancing its overall appearance. Our siding experts will help you select the most suitable siding material that complements your roofing choice, ensuring a seamless and aesthetically pleasing exterior for your home.
Residential Roofing
As a family-owned business, we understand the significance of a safe and comfortable home for you and your loved ones. We take pride in providing exceptional reroofing services for residential properties in Cheyenne.
Other Services
Apart from metal roofing, rubber roofing, shingles, and siding, we offer an array of other reroofing services to meet all your roofing needs in Cheyenne, WY.
Metal Buildings
If you have a metal building that requires reroofing, we have the expertise to handle it efficiently. Our team understands the unique requirements of metal structures and will provide tailored roofing solutions to ensure longevity and optimal performance.
Gutters
Properly functioning gutters are essential for the well-being of your roof and foundation. During reroofing projects, we can inspect, repair, or replace your gutters as needed, ensuring efficient water drainage and preventing potential water damage.
Installation and Maintenance
Our skilled professionals excel in roof installation for reroofing projects. Whether you need a complete roof replacement or partial reroofing, our installation process adheres to the highest industry standards. Additionally, we offer maintenance services to keep your reroofed property in top-notch condition, ensuring its longevity and peak performance.
Hail Damage Repairs
Cheyenne can experience severe hailstorms, which can cause significant damage to roofs. If your reroofed property has been affected by hail, our experts can promptly assess the damage and provide efficient repairs to restore your roof's integrity and protect your home or business from further harm.
FAQs
Can I reroof my commercial property without disrupting business operations?
Absolutely! We understand the importance of minimizing disruptions to your business during reroofing projects. Our experienced team is skilled in efficiently completing commercial reroofing jobs with minimal impact on your daily operations. We work closely with you to schedule the project at a time that best suits your business needs, and our professionals ensure a smooth and organized process to keep interruptions to a minimum.
How long does the reroofing process typically take for a residential property?
The duration of the reroofing process for residential properties can vary depending on factors such as the size of the roof, the materials chosen, and weather conditions. In most cases, a residential reroofing project can be completed within a few days to a week. However, more complex projects or adverse weather may extend the timeline. Rest assured; we strive to complete the job efficiently while maintaining the highest standards of quality workmanship.
What type of roofing materials do you recommend for our harsh weather conditions in Cheyenne, WY?
In Cheyenne, where weather conditions can be challenging with heavy snow, rain, and strong winds, we recommend durable and weather-resistant roofing materials. For commercial properties, metal roofing is an excellent choice due to its strength and longevity, providing reliable protection against the elements. For residential properties, asphalt shingles are a popular option as they offer a good balance of affordability and performance. Rubber roofing is also ideal for flat or low-sloped roofs, offering exceptional waterproofing capabilities. During our consultation, we will discuss the best roofing options to suit your specific needs and budget while ensuring your property remains well-protected throughout the seasons.
At Drury Brothers Roofing, we are proud to serve Cheyenne and its surrounding areas. Please refer to the map below for our service area.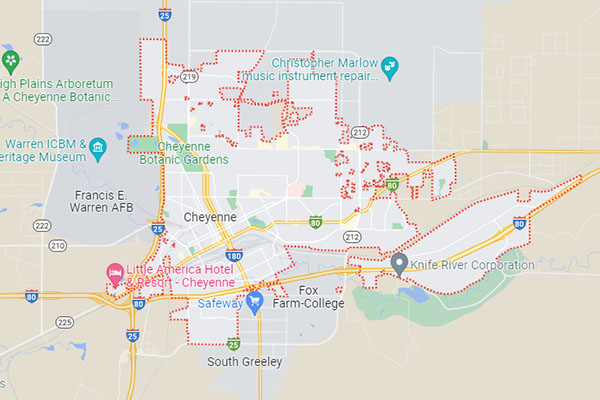 Need Roofing Professionals in Cheyenne, WY?
Here at Drury Brothers Roofing, we are committed to delivering exceptional reroofing services to our valued customers in Cheyenne, WY. Whether it's a commercial establishment or a residential property, we treat every project with the utmost care and attention. Our team's expertise, combined with top-quality materials and advanced techniques, ensures that your reroofing project will be completed to your satisfaction.
Trust us with your roofing needs, and we'll ensure that your property remains safe, secure, and visually appealing for years to come. Contact us today for a comprehensive assessment of your reroofing requirements and a free, no-obligation quote!